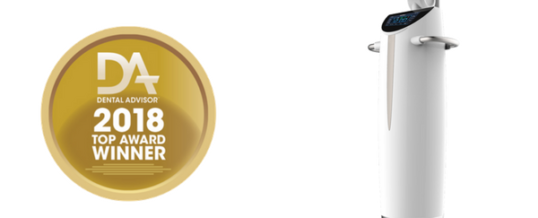 THE DENTAL ADVISOR awards are one of the most respected awards created to recognize quality products and equipment, taking into account clinical and evidence-based research to honor the best.  Beyond POLUS® is World's BEST Professional Teeth Whitening System as independently Voted by the American Dental Advisor to be the World's Best 8-years in a row.  iSmile™Teeth Whitening Clinic is proud to offer its clients this state-of-the-art technology the all new BEYOND® Polus® Advanced Teeth Whitening System developed and manufactured in the USA.
Our new machine features revolutionary new ULTRASOUND whitening technology for faster, whiter teeth than ever before!
This cutting-edge system uses a combination of a powerful Halogen beam of blue light, and Ultrasonic whitening technologies to deliver a personally tailored treatment providing up to 4-9 shades of improvement. As well as these amazing benefits the advanced technique uses a filtration system that eliminates exposure to harmful UV light and heat, thereby reducing sensitivity. SCIENTIFICALLY PROVEN to give better results than any other system in the World rendering all other systems 'Old Technology'.
NEW ULTRASOUND TECHNOLOGY
Ultrasound, also called sonography, uses high frequency sound waves inaudible to the ear to develop a gentle ultrasound vibration to help loosen staining for faster whiter results than ever before.
NEW LIGHT TECHNOLOGY
Beyond Advanced, is the only Teeth Whitening Accelerator light available with a 0% UV light filtration system. Light efficiency from the BEYOND™ Whitening Accelerator is filtered through over 12,000 optical fibres and 30 layers of coated optical glass before accelerating the whitening process. The BEYOND system delivers the most intense, tailored beam of blue light of any cosmetic teeth whitening system on the market without the risk of UV exposure and the hypersensitivity associated with other whitening systems.
NEW IONISATION TECHNOLOGY
The new POLUS ADVANCED system now has Ionisation filtering for cleaner, healthier clinic air.
Contact iSmile Teeth Whitening Auckland Clinic today (09) 476 1955
40 Triton Drive, Albany, North Shore, Auckland.
Share