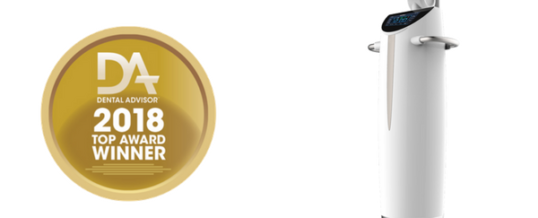 The Beyond POLUS "Light-Bridge' Whitening Accelerator System has not only been Scientifically proven to whiten better than LASER, but also, EVERY other whitening system in the World today.
THE DENTAL ADVISOR awards are one of the most respected awards created to recognize quality products and equipment, taking into account clinical and evidence-based research to honor the best. Beyond POLUS® is World's BEST Professional Teeth Whitening System as independently Voted by Dental Advisor to be the World's Best 8-years in a row. iSmile™Teeth Whitening Clinic is proud to offer its clients this state-of-the-art technology the all new BEYOND® Polus® Advanced Teeth Whitening System developed and manufactured 2018 in the USA.
The 2018 POLUS ADVANCED system is first with revolutionary new technology ULTRASONIC WHITENING for even whiter results in less time, plus Ionisation filtering for clean clinic air.
Ultrasonic Whitening technology renders ALL other systems 'Old Technology'
Now as well as the 8 time award winning 'light bridge" technology, Polus Advanced features revolutionary new ULTRASOUND whitening technology for faster, whiter teeth than ever before
How ULTRASOUND Teeth Whitening Works
Ultrasound, uses high frequency sound waves inaudible to the ear to develop a gentle ultrasound vibration to help loosen staining for faster whiter results than ever before.
If you are interested in teeth whitening please contact iSmile Auckland Teeth Whitening Clinic to book your appointment.
Contact iSmile Teeth Whitening Auckland Clinic today (09) 476 1955
40 Triton Drive, Albany, North Shore, Auckland.
iSmile practitioners are fully qualified and affiliated with Beyond Dental and member of the New Zealand Cosmetic Teeth Whitening Association (NZCTWA).
Click here to learn more about Professional In Clinic Teeth Whitening Auckland
Share