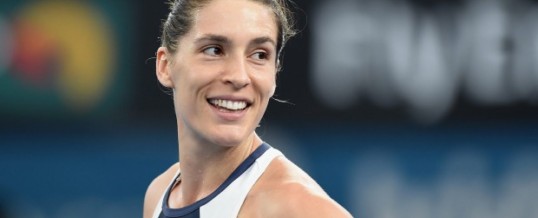 Not everyone is born with a killer white smile such as German tennis star Andrea Petkovic
While the popularity of a lily-white smile spawned a billion-dollar business for Procter & Gamble, for gold, it's meant only more bad news.
Until a decade ago, about 67 tonnes of the yellow metal, worth $US2.7 billion ($3.5 billion) today, were filling, capping and crowning teeth worldwide annually. In the last five years, though, demand has plunged almost 60 per cent, according to the World Gold Council. Dentists blame teeth-whitening.
The trend accelerated a decline in gold's allure caused by newer dental cements and ceramics, and soaring bullion prices. The precious metal that's surged in 2016 as investors rediscovered its virtue as a haven in troubled times is now being shunned by ever-larger numbers of patients from Singapore to Sydney.
"We're in a fad in dentistry where people have to have 'triple-A, Dulux-white' teeth," said Hugo Sachs, 60, vice-president of the Australian Dental Association, who has been practicing dentistry for 37 years. "I doubt very much gold would come back into fashion."
Gold demand in dentistry fell by 1 ton, or 5 per cent, to 18.9 tons in 2015, the London-based Gold Council estimates.
"Long ago, having a gold tooth at the front was some kind of a status symbol," said Chew Chong Lin, professor of prosthodontics at the National University of Singapore, who graduated from dental school in 1971. "As time went by, cosmetics took over and, therefore, people began wanting to have crowns with a more tooth-like appearance."
Used by the Etruscans to make dental bridges as early as 630 BCE, gold has been featuring in people's mouths for millennia. In ancient times, women deliberately removed one or two incisors and replaced them with golden prosthetic ones, according to Marshall Joseph Becker, an emeritus professor of anthropology at the West Chester University of Pennsylvania.
Today's dental patients prefer materials, such as ceramics, that blend, not clash, with their other teeth. And, thanks to lasers and bleach, pearly whites have seldom been whiter. P&G's Crest Whitestrips, first sold in 2000, was "the largest product introduction in the history of" the 179-year-old multinational company, according to its lead inventor. Americans will this year spend $US420.1 million on over-the-counter products to whiten their teeth, market researcher Euromonitor International predicts.
"We hardly ever use gold in front teeth now, almost never," said Lindsay Richards, dean of dentistry at the University of Adelaide in South Australia, where he's taught since 1982. "I would've last done a gold filling 10 years ago in a front tooth. For the back teeth, it's still an excellent material, but people don't like the look of it."
As a crown for back teeth, gold is the strongest material and enables more of the existing tooth structure to be preserved, said Sachs, who practices in the rural townships of Harden and Cootamundra in New South Wales state. Unlike porcelain, gold doesn't fracture.  "But people tend not to want to show gold, or for that matter silver, fillings these days, even though they are a very good tooth restorative," he said.
Gold alloys that contain smaller amounts of silver, copper, palladium and other materials are especially resistant to plaque and cavities, making them one of the most durable materials for dental work, such as crowns, said R. Balakrishnan, who's worked as a dentist in Malaysia's capital city and the surrounding Selangor state for 40 years.
"Gold should make a comeback as far as posterior restorations are concerned," Balakrishnan said. "When you have these crowns, they last you a lifetime."
The precious metal is expensive, though. The gold price climbed every year from 2001 to 2012, reaching $US1,921.17 an ounce on the spot market in 2011. It's advanced 16 per cent to about $US1,234 so far this year.
That means a patient needing a filling could get half a dozen composite resins for the price of a gold inlay in a front tooth, said Sachs, who last used gold to replace missing front-tooth structure 30 years ago.
A filling with a gold cap might use 5-to-8 grams of the precious metal, Richards said. "You would have hundreds of dollars worth of gold in a gold crown, whereas it used to be tens of dollars," he said. "That's made a difference."
Gold in dentistry accounts for less than 1 per cent of global demand. More than half is fashioned into jewelry, while a fifth is kept as bars or coins as an investment, according to gold council data.
These days, gold teeth are more likely to be seen in the mouths of the older generation or of headline-grabbing celebrities, such as British deejay Goldie and Pogues singer Shane MacGowan. American rapper Nelly, captured the appeal of bejeweled cosmetic dental apparatuses in his song "Grillz," released more than a decade ago.  If you too want that celebrity smile without the gold teeth its recommended you have a good dental hygiene routine and have your teeth whitening at a professional teeth whitening clinic at least every 12 months.
Contact iSmile Teeth Whitening Auckland Clinic today 0212095004
Temporary Location 645 SH16, Kumeu, Auckland.
iSmile Teeth Whitening Practitioners are fully qualified and members of the New Zealand Cosmetic Teeth Whitening Association (NZCTWA).
Click here to learn more about Professional In Clinic Teeth Whitening Auckland
Share