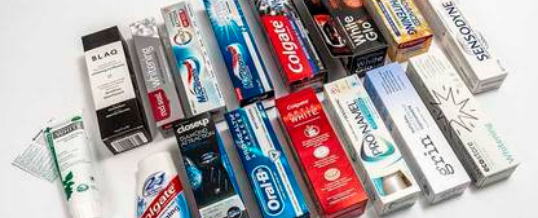 You'd be forgiven for thinking a sparkling smile is just a few scrubs away. Teeth-whitening toothpastes promise "three shades whiter teeth" and "clinically proven" results. DIY whitening kits are also available, offering a "bright and confident smile".
Unfortunately, polishing up your pearlers isn't that easy. We've checked out 25 teeth-whitening products and what you can expect from using them.
Whitening toothpastes
Whitening toothpastes contain abrasives to help remove stains. They may also have ingredients that prevent stains from forming. However, they're generally only able to remove surface stains, rather than whitening your teeth.
Jonathan Broadbent, University of Otago associate professor in dental public health, thinks the term "whitening" is potentially misleading and should be reserved for products that bleach teeth.
If you want a product that bleaches, it needs to contain hydrogen peroxide (or carbamide peroxide, which breaks down to hydrogen peroxide). The downside is that high concentrations of hydrogen peroxide can irritate the gums and cause teeth to become sensitive. For that reason, it's regulated.
Toothpastes for everyday use can't contain more than 0.1% hydrogen peroxide. Products with higher concentrations are allowed but must carry safety warnings advising not to use the toothpaste for more than 14 days or if you're under 16 years. These labelling requirements were introduced in 2017 and manufacturers have until December 2021 to comply with these labelling requirements.
Only one toothpaste we found contained hydrogen peroxide. Colgate Optic White Enamel White had 1% hydrogen peroxide. Colgate is yet to change its packaging to reflect the revamped labelling rules. The toothpaste currently claims it's "gentle enough to use everyday" and suitable for anyone aged seven or above.
Charcoal toothpastes
Toothpastes containing charcoal also make whitening claims.
Blaq Whitening toothpaste claims to "harness the power" of activated charcoal to "transition teeth into a shade of brilliant white", while Red Seal Whitening, with activated charcoal spheres as well as baking soda and coconut, will "restore the whiteness of your teeth, naturally".
Colgate Advanced Whitening Charcoal promises "whiter teeth in one week".
Though it's been used for centuries, scientific evidence charcoal provides effective oral care is lacking. A 2019 report in the British Dental Journal recommended consumers steer clear of charcoal toothpastes because they could be too abrasive and there's not enough evidence showing they work.
Dr Broadbent agrees. Depending on the particle size, charcoal may be too abrasive and lead to tooth wear and sensitivity, he said.
One charcoal toothpaste we bought, White Glo Charcoal Deep Stain Remover, came with a leaflet that claimed the paste was approved by the Australian Dental Association (ADA). However, the ADA said it had only given its tick to one White Glo product (WhiteGlo Professional) and the charcoal toothpaste didn't have its endorsement.
What causes staining?
There are two types of stain: surface and intrinsic (deep) staining.
Intrinsic stains are below the tooth's surface. There are four common causes:
Ageing: wear and tear thins the outer enamel – the dentine layer below then begins to show through, making the teeth appear yellow.
Antibiotics: long-term use of antibiotics can stain teeth.
Fluorosis: if children swallow too much fluoride toothpaste when their teeth are developing, they risk developing fluorosis or surface mottling on the teeth.
Root canal work: a tooth can sometimes darken following this procedure.
DIY bleaching kits
DIY kits to bleach your teeth are also readily available. Prices vary widely. Of the eight teeth-whitening kits we found online, prices ranged from $50 to $225 (see our Table).
All the kits used tray-based whitening where you apply gel to a mouthpiece and pop it in your mouth. You then plug the mouthpiece into your phone, which turns on a light in the mouthpiece that activates the bleaching agent. Depending on the kit, you wear the mouthpiece from 10 to 60 minutes, either once a week or twice a day.
Most of the kits used either hydrogen peroxide or carbamide peroxide as the bleaching agent. The amount of hydrogen peroxide in DIY kits must be less than 8%. That's much higher than rules allow in the EU, where dental products with 0.1% or higher can only be sold by dentists.
These restrictions have led to companies using other whitening agents, such as phthalimidoperoxycaproic (PAP) acid.
We found one kit available here, HiSmile Teeth Whitening, containing PAP as the bleaching agent. While there are no specific controls on PAP, its use in whitening products has attracted criticism.
Dr Broadbent said PAP and other acids may damage tooth enamel and make teeth more susceptible to decay. He believes acid-based bleaching agents shouldn't be available over-the-counter.
There are also questions about its efficacy. A 2019 study in the British Dental Journal found a whitening product (iWhite Instant Teeth Whitening) containing PAP had less lightening effect than saline (salty water). The researchers considered this could lead to consumers using more of the product and damaging the teeth enamel.
Matt Overington, HiSmile head of communications, said the company "has independent testing that shows PAP to be effective without any detrimental effect on tooth enamel". However, he wouldn't share that research with us.
In 2019, HiSmile came under fire from the British Advertising Standards Authority for making claims its product could give you "white teeth in 10 minutes". The authority found the claim wasn't substantiated and risked misleading consumers.
Mr Overington said HiSmile "immediately removed all content that was flagged as misleading". However, Mr Overington included the "white teeth in 10 minutes" claim in his email signature. The company's website also states the product is "designed to deliver results in only 10 minutes."
Whitening strips are another DIY option. Oral B 3D White Tooth Whitening Whitestrips (from $30) are applied directly on to your teeth without a mouthpiece. The strips contain 5.25% hydrogen peroxide. You use two a day for 60 minutes for up to two weeks (there are 28 strips in the pack).
Don't be tempted to keep going with a DIY bleaching treatment for longer than two weeks. There's a point where your teeth won't get any whiter and continuous bleaching can damage tooth enamel. The type of teeth staining will also influence the results you get.
New Zealand Dental Association spokesperson Dr Usha Narshai strongly recommends a professional consultation before using these products.
If you have cavities or failing dental work, you're more likely to experience irritation and sensitivity. Bleach can penetrate cracks or cavities in your teeth and high concentrations can cause irreversible damage to the tooth pulp, as well as irritating the gums and lining of the mouth, and weakening fillings.
Nanoparticles in your paste
Dentiste Premium and Natural White Intensive Whitening Treatment toothpaste claims to "whiten the teeth and strengthen the enamel for stronger teeth". At $14.49 for a 100g tube, it was the priciest paste we found.
Its active whitening ingredient is nano-hydroxyapatite, a nanoparticle that acts as an abrasive while also maintaining the calcium in tooth enamel.
Nano-hydroxyapatite may make teeth look whiter but there haven't been any robust studies comparing its effect to bleaching, Dr Broadbent said.
The jury's still out over the safety of nano-hydroxyapatite. Nanoparticles are very tiny particles and knowledge of their potential health and environment effects is still developing. A 2016 European Commission report found insufficient evidence to determine whether nano-hydroxyapatite is safe or not.
Based on in vitro (lab) testing, a 2019 study published in the journal Nature concluded the chemical was safe in toothpaste. The European Commission has yet to review this research.
Under the Hazardous Substances and New Organisms Act, manufacturers must inform the Environmental Protection Authority when a cosmetic product (such as toothpaste) contains nanoparticles. Zinc oxide and titanium dioxide are exceptions.
Professional whitening
Getting a whitening treatment from your dentist is another option. The products they use can contain higher concentrations of hydrogen peroxide (more than 12%).
Dentists use custom-made trays or in-surgery bleaching to whiten stained teeth.
Your dentist should start by asking about your medical history to find out how your teeth became discoloured, as different stains respond differently to treatment. They'll also check your teeth and repair any cavities or cracks.
Custom-made trays: The dentist makes a thin, custom-fitted, clear, plastic tray that fits over your teeth. In the comfort of your home, you place whitening gel on the tray and put over your teeth for up to two hours. It may take 10 to 14 days to get the full whitening effect.
In-surgery: The dentist applies whitening gel to your teeth and a special LED light is used for 20 to 30 minutes to activate the gel (DIY kits use LED lights too). They may need to repeat this process several times.
Prices we were quoted for these treatments varied widely from $300 to $1100.
Cosmetic clinics and teeth-whitening services provide similar treatments. However, they're restricted to products containing no more than 12% hydrogen peroxide.
And they don't have the same level of training as dentists. The New Zealand Cosmetic Teeth Whitening Association course takes two days, whereas dentist training takes five years.
Whitening products
| Whitening kit | Price | Bleaching ingredient |
| --- | --- | --- |
| Clean Whites | $120 | 6% hydrogen peroxide |
| HiSmile | $93.97ᴬ | Phthalimidoperoxycaproic (PAP) acid |
| Pearly Whites Australia Professional | $164.99ᴮ | 18% carbamide peroxide |
| The Whitening Co Premium | $189 | 6% hydrogen peroxide |
| Vidawell Personal | $225 | 16% carbamide peroxide |
| White Glo Accelerator | $50 | 15% carbamide peroxide |
| WhiteBlanc Light Enhanced | $65 | 6% hydrogen peroxide |
| Whitenz Premium | $85 | 6% hydrogen peroxide |
GUIDE TO THE TABLE PRICE is from an online survey carried out in February 2020. BLEACHING INGREDIENT is the active whitening ingredient. Products with carbamide peroxide had concentrations from 15% to 18%, which releases 5% to 6% hydrogen peroxide. 
Written By Rebecca Styles Investigative writer for Consumer NZ https://www.consumer.org.nz/articles/teeth-whiteners
Contact iSmile Teeth Whitening Auckland Clinic today 0212095004
Temporary Location 645 SH16, Kumeu, Auckland.
iSmile Teeth Whitening Practitioners are fully qualified and registered members of the New Zealand Cosmetic Teeth Whitening Association (NZCTWA).
Click here to learn more about Professional In-Clinic Teeth Whitening Auckland
Share